Straws made of environmentally friendly bamboo and grass are increasingly popular in cafes and restaurants in big cities.
The cafe switched to straws, grass
Opened for 6 months, 3 months now, the coffee shop on Tran Khat Chan Street (Hanoi) of Mr. Nghiem Minh Tam has started using bamboo straws instead of plastic straws.
Mr. Tam shared, he decided to use a bamboo straw first because of its practical benefits. 'Unlike paper straws, bamboo straws are both environmentally friendly and reusable. I can use a special tool to clean the tube, then use it again. Its durability can be up to several months, calculating the price is only equivalent to a disposable plastic straw '- Mr. Tam said.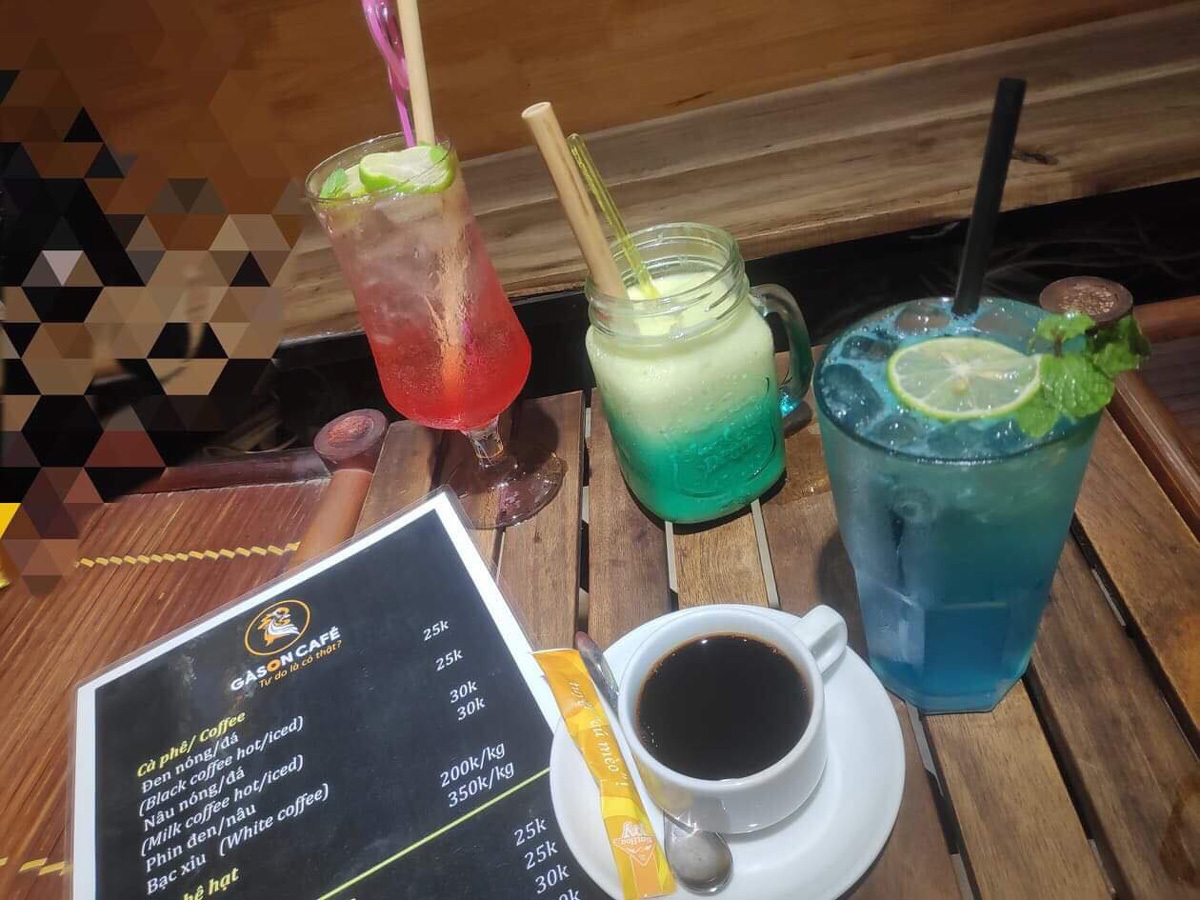 Bamboo straws are used at Mr. Tam's cafe.
Owning 2 cafes, if using plastic straws, Mr. Tam must release at least hundreds of straws every day. The owner of the shop said that the customers coming to his shop were very interested in using bamboo straws. Not only that, it helps to improve the 'luxury' of the shop.
However, with customers buying drinks to take away, Mr. Tam's shop still has to use plastic straws for convenience. 'The customers of the restaurant are mostly sitting on the spot. Every day, about 3-4 cups taken away, I still use plastic straws, because the cost for each bamboo straw is more than 4 thousand VND / one. If customers use bamboo straws to take away, the product price will increase a bit '.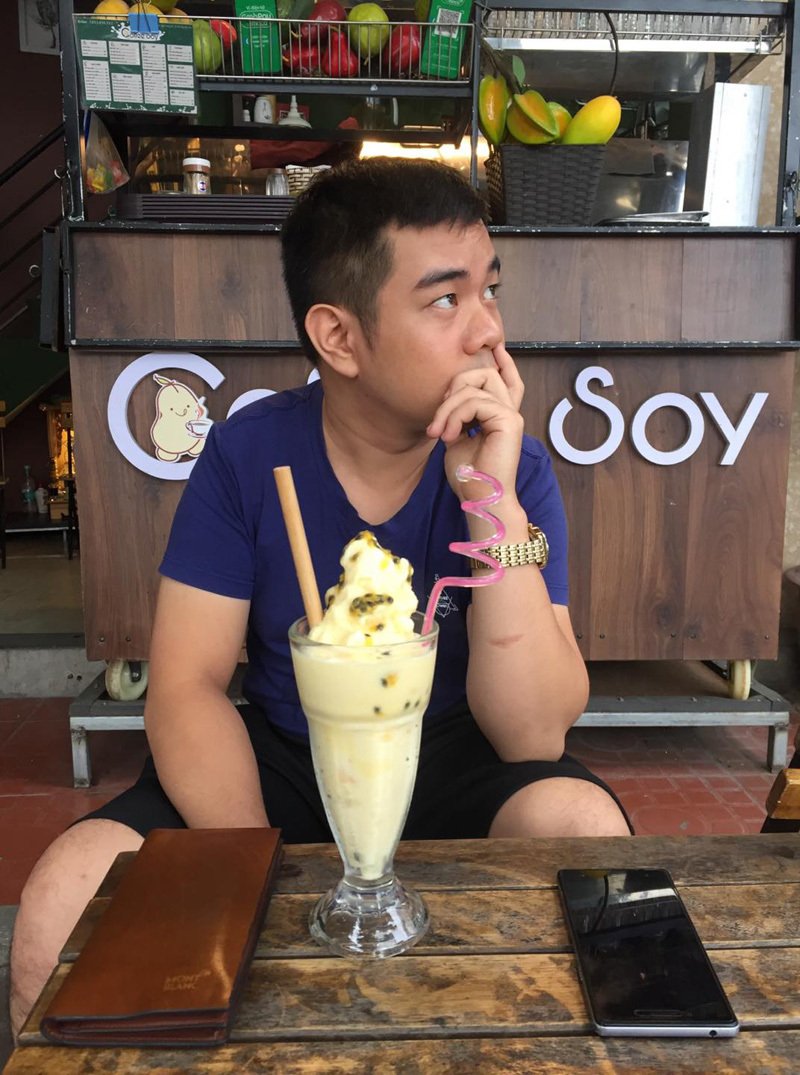 Customer has a good reaction to bamboo straws.
Like Mr. Tam, Pham Minh Huyen, who owns a cafe in Vinh Phuc, also uses a bamboo straw. As an interested person in protecting the environment, Ms. Huyen chose to use this product right after the shop came into operation.
'In the past, when I was a student, I used to work for cafes and saw every day they threw away countless plastic straws and plastic cups. So I am determined to use environmentally friendly products for my shop. '
Ms. Huyen said, before using bamboo straws, she also wondered between choosing similar product lines, paper straws and grass straws. 'Bamboo straws have the highest price but can be used many times. Grass straws are also good, lower price but can only be used once. Paper straws can be used once but are also prone to softening when left in water. So, I decided to use a bamboo straw for my shop. '
With the buyers take away, the shopkeeper is still very worried when forced to use plastic straws. However, she plans to use grass straws to take away and is forced to increase the price of each cup of drinks to 2 thousand. In addition, in the coming time, she also wants to use the straps made of bamboo instead of plastic bags.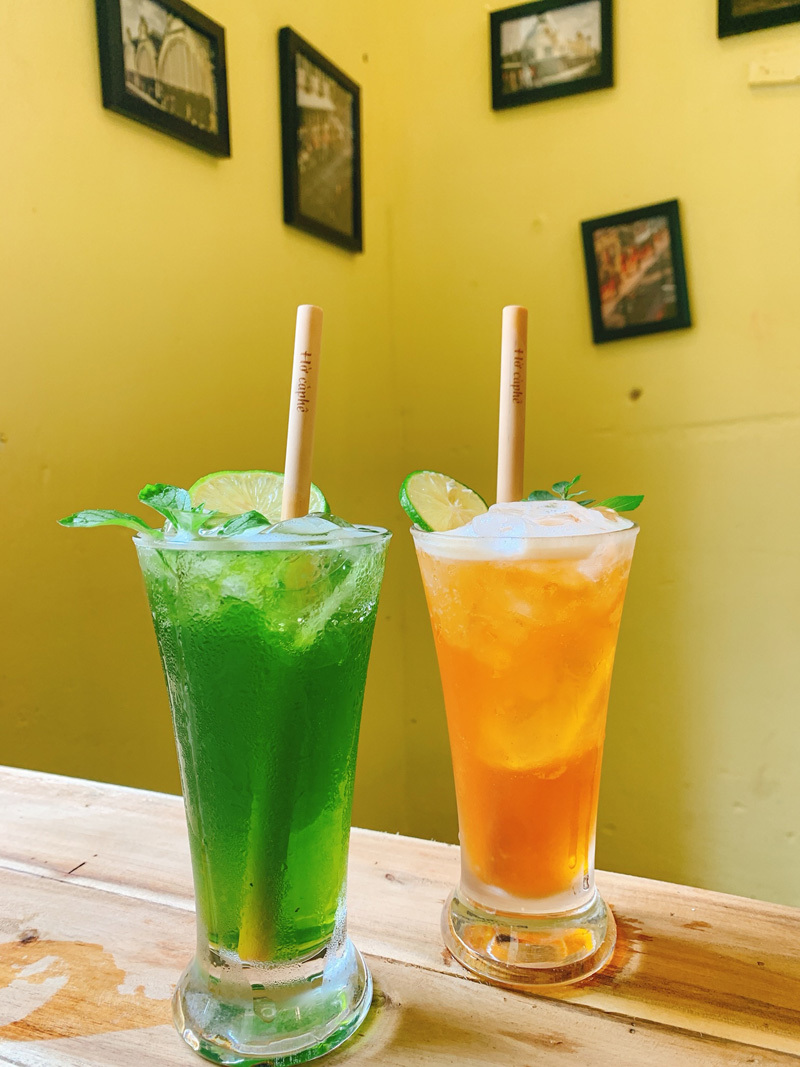 Ms. Huyen – owner of a cafe in Vinh Phuc – intends to use straws for customers to take away.
Ms. Huyen said, for the cafe, actually using bamboo straws is still a bit more expensive than plastic straws and when using, there are many stages of 'effort' than plastic straws just need to throw in the trash.
'After I finish using it, I have to wash it with the supplied special equipment. After that, I have to dry, then put in a plastic box with dehumidification to avoid mold from getting moldy. In the summer, when the sun is dry, there will be less drying, 'said Ms. Huyen.
Although it takes more effort to clean and preserve, but to protect the environment, Ms. Huyen said she is still determined to use this product for a long time.
The owner of this shop also said that maybe in Hanoi, bamboo straws are known by many people but in her area, there is no cafe using it.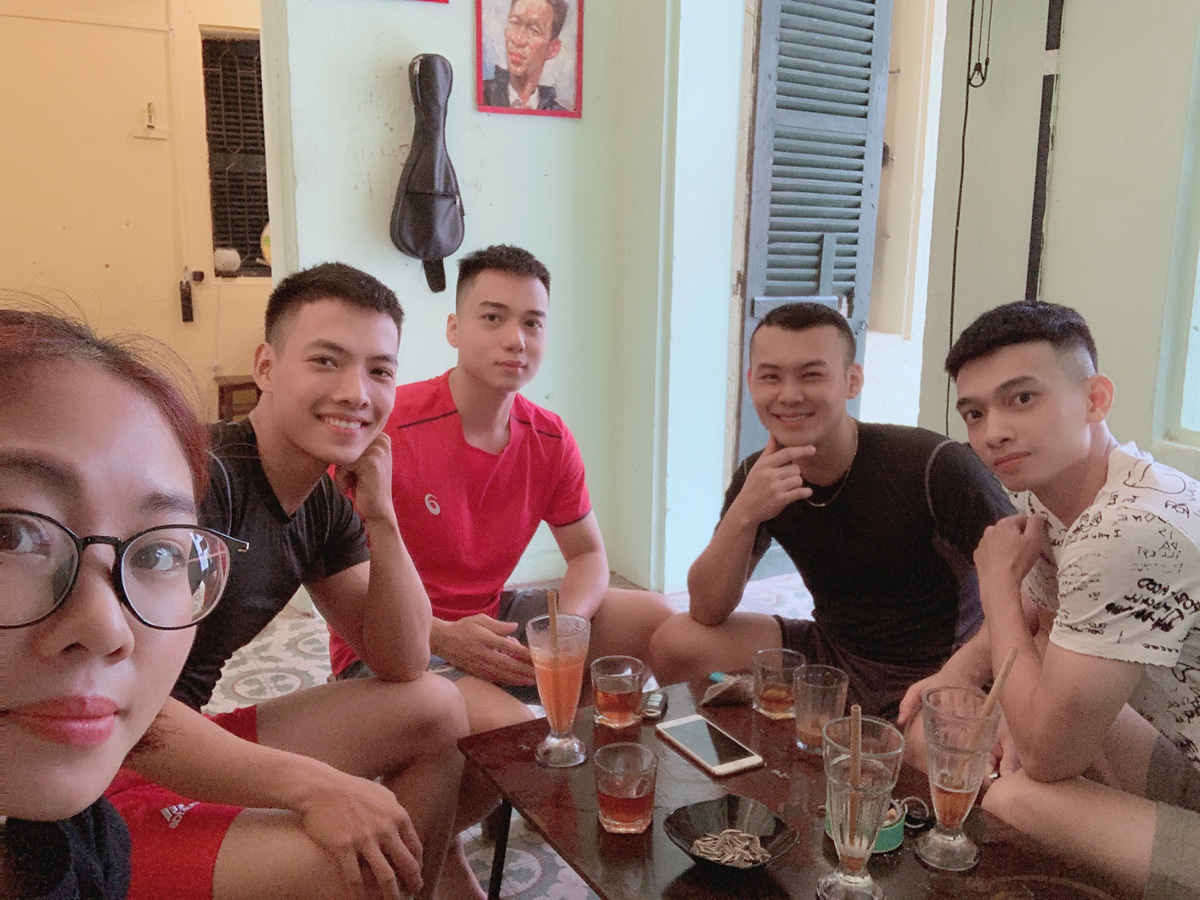 Huyen said her cafe is the first in the area to use bamboo straws.
As a student helping his brother in the cafe business in Nghe An, Cao Dang Khoa shared the same thoughts as Huyen.
'The young people are very excited, but middle-aged customers do not pay much attention to this.'
Khoa said that in Hung Nguyen town area (Nghe An), there are no restaurants or shops that use straws that are friendly to the environment. 'Even many afternoons passing by the sidewalk drink stalls saw people sweep back to burn, causing smog and environmental pollution'.
Khoa's family cafe has been in operation for 10 years, but has only been using bamboo straws for about 1 month. In addition to the use for customers, the shop also sells to retail customers at the import price just to spread the habit of using environmentally friendly products to more people.
Faculty shared, young people are tending to pay more attention to environmental protection, in part because of propaganda and more frequent access to information.
Eco-friendly straws are gradually becoming a popular item when cafes and restaurants start to find this product line.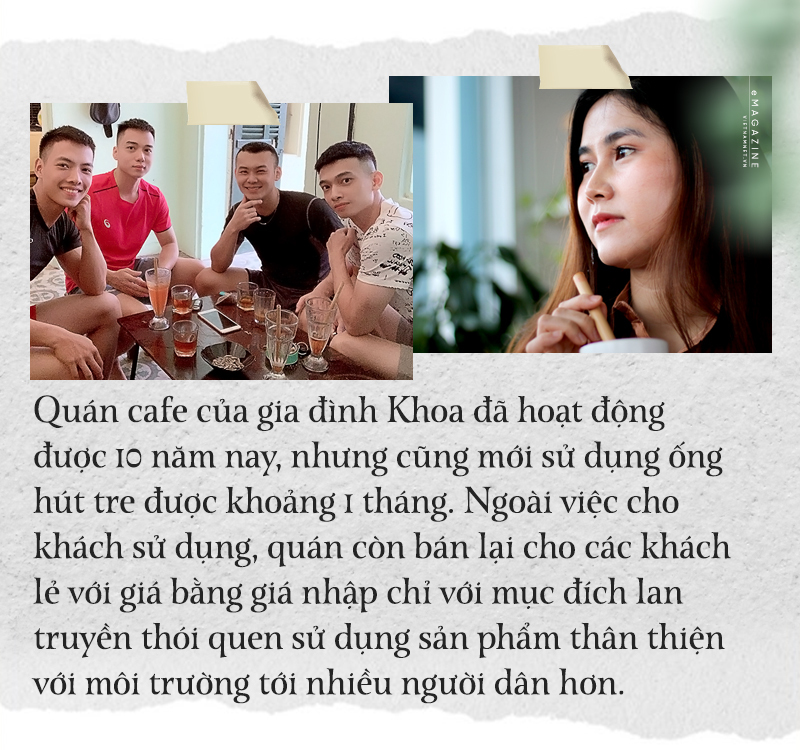 Young people prioritize using environmentally friendly products
Like many other young people, Tu Uyen (born in 1995) loves to hang out at weekend cafes. She said that recently, she noticed that many cafes were simultaneously switching to environmentally friendly straws. In addition to bamboo straws, many places also use grass straws, paper straws.
'I see the drinks, supermarkets are becoming more aware of the limited use of boxes, plastic straws and plastic bags. Many beverage stores offer discounts for customers who bring mugs. The supermarket also offers discounts for non-disposable plastic bags. Even the shops that still use lots of plastic goods have been condemned and boycotted by young people. '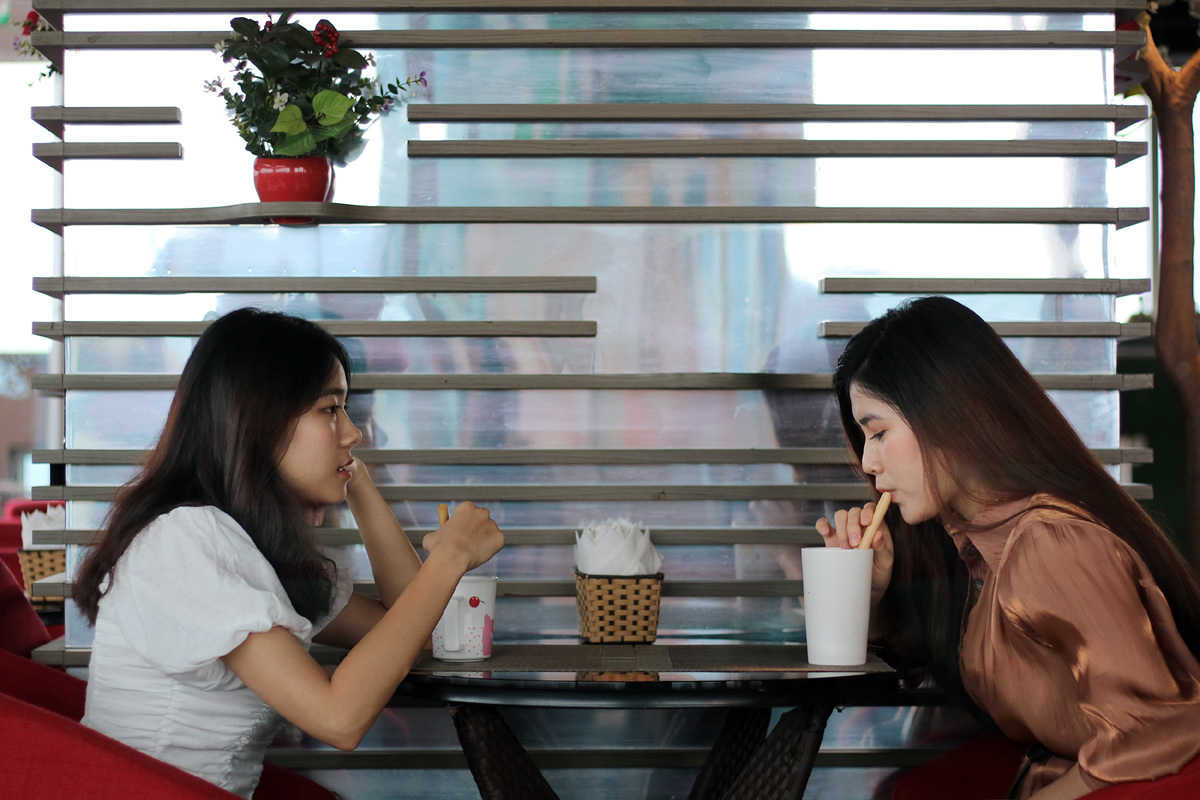 As a person concerned about environmental protection, Uyen said her recent lifestyle has also changed dramatically. Photo: Le Anh Dung
As a person concerned about environmental protection, Uyen said her recent lifestyle has also changed dramatically. 'Going to the supermarket, I always carry a bag with me to limit the amount of plastic bags discharged into the environment. Garbage bags for household use, I also choose to buy biodegradable bags. In the past, I used to use disposable masks, but now I switch to cloth masks. After using the battery, I also put it in one place to send it to the places that receive recycling batteries … '.
Nguyet Ha (born in 1996) shared that she and her close friends are all very supportive of changing daily habits to protect the environment. In addition to limiting the use of disposable plastic products, Ha also switched to using products made from nature such as plastic boxes made from barley, cups made from bagasse, dishwashing liquid, and soaps. from the island …
'In my opinion, most of the change of young people is due to the positive impact from the videos and images that we see in the newspapers, social networks, youtube' – Ha said.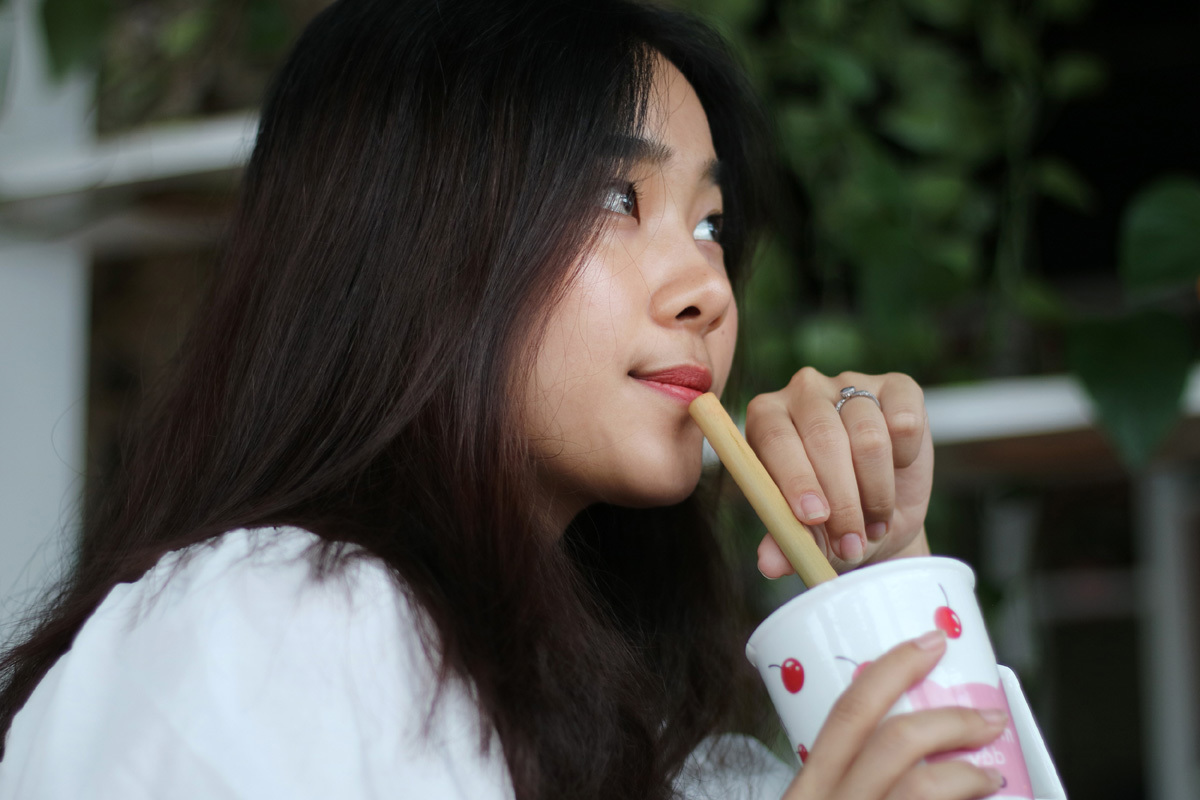 Nguyet Ha and many young people are gradually turning to using environmentally friendly products. Photo: Le Anh Dung